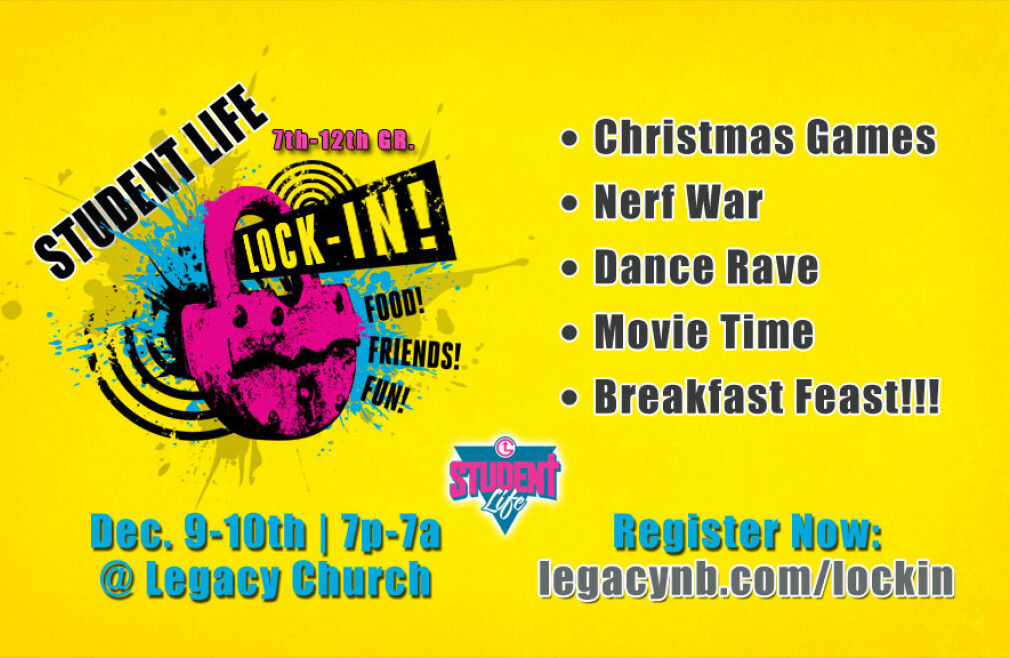 Friday, December 09, 2022
,
7:00 PM - Saturday, December 10, 2022, 7:00 AM
FRIDAY: 7:00PM START
SATURDAY: 7:00AM FINISH

LOCATION: Legacy Church Sanctuary

Get ready for a night of fun at our Student Life Lock-In (7th-12 Grade)! Christmas Games, Nerf War, Dance Rave, Movie Time, Breakfast Feast, and MORE!!!
And get ready for BAD SANTA... where you bring a super random, weird (but appropriate), or just plain bad gift from your home... but WRAP IT BEAUTIFULLY! (For example, a banana placed inside a box of chocolate or a free Chick-Fil-a toy inside a shiny gold bag.) We will provide a handful of nice gifts to throw in the mix... the fun is to see how creative you can get with your Bad Santa gift!
THINGS TO BRING:
Wear Christmas PJs (if you have them; robe and slippers are welcome)

Pillow & Sleeping Bag (even if you don't plan to sleep because PILLOW FIGHTS WILL BE HAPPENING!!!)

Bad Santa Gift

Nerf Gun & Darts (if you have one or more)

Clear Protective Eye-Wear (if you want; cause the NERF WAR WILL BE IN THE DARK!!!)

Extra Clothes (you might sweat a lot through all the fun!)

Snacks to share



SCHEDULE OF EVENTS:
7:00-7:30pm - Check-In

7:30-8:00pm - "Get to Know You" Games

8:00-10:30pm - Nerf Wars

10:30-11:30pm - Christmas Party Games

11:30pm-12:30am - Pillow Fight / Breakfast Feast

12:30-2:00am - Christmas Party Games

2:00-3:00am - Dance Rave

3:00-5:00am - You Choose Game Options

5:00-6:30am - Movie Time - "Elf"

6:30-7:00am - Wake Up / Clean Up

7:00am - Pick Up