Our powerful Women of Legacy Ministry is designed to elevate women to positions of Kingdom influence in their callings. Whether those callings involve teaching, mentoring, leadership, or a host of other spiritual giftings, our Women of Legacy demonstrate what it truly means to be the hands and feet of Jesus — to one another, their families, and the community around them.
She is clothed with strength and dignity, and she laughs without fear of the future. She opens her mouth with wisdom, and the teaching of kindness is on her tongue.
- Proverbs 31:25-26
Our women gather together for fellowship, Bible studies, mentoring groups, revitalizing retreats, service opportunities, conferences, and other events focused on an inherent desire for more of God. Through the power of experiencing God in these gatherings, our women are empowered to have maximum impact as wives, mothers, friends, teachers, and leaders.
Sister's Table
The mission of our Sister's Table Ministry, under the inspiration of the Holy Spirit, is to build connection, community, and communication within the generations of women in the Body of Christ. Our women fulfill this mission by meeting around the table... the common table, the family table, and the Lord's table. The goal is to laugh and have fun, learn together, care for, minister to, and teach one another... both young and old. This ministry meets on the first Monday of every month (unless on holidays)... and all women are welcome!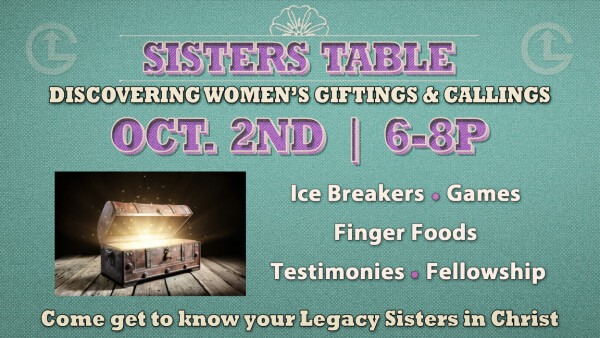 View our Sister's Table Mission Statement