The heart of Connections at Legacy Church is to connect every person to God and His family. This ministry is all about leaving positive FIRST IMPRESSIONS of our worship services, conferences, and events — for first-time visitors and seasoned members, alike! And while the volunteers of this ministry serve on the front lines for providing a great first impression, they're often times also the last people to leave a meaningful impact for each guest.
Check out our areas of service below and find a place to serve today:
Welcome Team – Smile, smile, and smile some more! Our Welcome Team of Greeters serve to give our guests the best experience possible and make them feel welcome. Additionally, Greeters often escort guests to their proper destinations and generally help others find their way around.


Parking Lot Team – Before our Welcome Team gets a crack at making guests feel at home, our Parking Lot helpers are the first to greet visitors with a friendly face. This group helps guests safely park vehicles and cheerfully greets people as they arrive.


*Café Team – Do you love to serve people? If so, volunteering in our Legacy

Café

is the perfect place to make others feel welcomed. We offer a variety of refreshments, like bottled water and hot coffee, to make guests feel right at home. *Our Legacy Café is currently closed, but we hope to re-open in the near future!



Usher Team – Our Ushers help individuals and families find open seats prior to, and after, the start of service. Volunteers on this team also help prepare, serve, and clean up elements of Communion, which takes place the 3rd Sunday of every month

. This team

also safely guides and directs guests to exits in the event of an emergency.


Safety Team

– Our Safety Team is made up of special volunteers who maintain current CHLs (Concealed Handgun License) and are proficient in firearms handling and safety in the event of a terroristic encounter on church grounds. By no means is this meant to scare any of our guests, but quite the contrary... this team helps create and maintain a safe environment for EVERYONE to worship.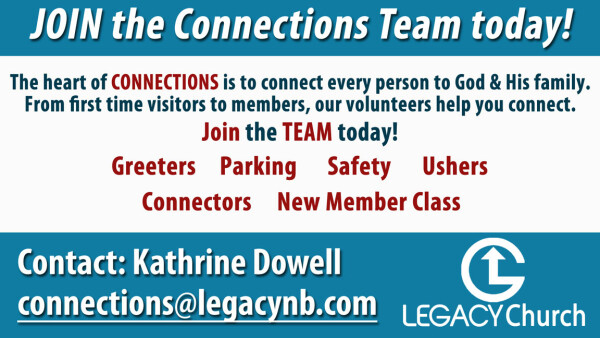 JOIN OUR TEAM!
Would you like to join us in leaving lasting first impressions of Legacy Church with our visitors and members, alike? Our volunteer team is expanding and we have many different areas of involvement. Training and orientation are available.
Please fill out the form below and someone from our team will contact you: