Our Vision is simple, really… Legacy Church exists as a place for releasing God's Kingdom in the Earth to transform lives and cities as people Know, Hear, and Respond to Jesus. We just have to be willing to get out of God's way and let Holy Spirit move!
Seek first the Kingdom of God and His righteousness, and all these will be added to you.
- Matthew 6:33
Your Kingdom come. Your will be done. On Earth as it is in Heaven.
- Matthew 6:10
So then faith comes by hearing, and hearing by the word of God.
- Romans 10:17

People don't live by bread alone, but by every word that comes from the mouth of God.
- Matthew 4:4


The Mission? To see radical, purpose-driven transformation take place in people's lives as they are saved, healed, set free, discipled, equipped, empowered, and serving God's Kingdom. We believe God has called us to be 360 degrees in ministry; this means being well-rounded, connecting people to God on multiple fronts.
The Spirit of the LORD is upon Me, Because He has anointed Me To preach the gospel to the poor; He has sent Me to heal the brokenhearted, To proclaim liberty to the captives And recovery of sight to the blind, To set at liberty those who are oppressed; To proclaim the acceptable year of the LORD.
- Luke 4:18-19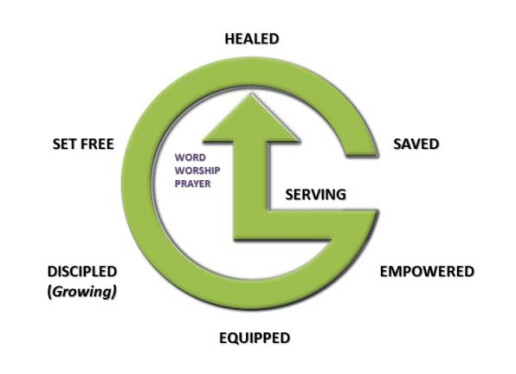 Because making disciples is part of the overall mission of the church as a whole, we believe every one of us were Created to "B":
BELIEVE LIKE JESUS – Beliefs and faith are interconnected, and beliefs must lead to action. It is not enough to just believe in Jesus; we are called to believe LIKE What we believe will determine how we live. This means we must place our hope and trust in Jesus by surrendering to His Lordship in every area of our lives.



BUILD HIS KINGDOM – We are not called to build the church, but instead bring the influence of God's Kingdom everywhere we go. Jesus promised to build the church. How? By building His Kingdom in us and through This means submitting to God and being His hands and feet to those around us by giving of ourselves and serving others.



BELONG TO GOD AND HIS FAMILY – When we became born again, we did not join a club, organization, or cause; we now belong to God and His family. Every believer is called to belong to a local church family. Belonging to family means developing meaningful friendships with others who love Jesus and walking through life together by loving, helping, and protecting one another.



BECOME ALL THAT GOD CREATED US TO BE – We were born again into something… not from Jesus became flesh, and sin itself, so we could become all God created and redeemed us to be. This means shifting the focus of our lives from self-centered to Christ-centered by doing what Jesus would do and loving as He would love.

Core Values speak to the environment the vision and mission take place in; they guide how we approach ministry at Legacy Church:
WE SEEK FIRST HIS KINGDOM & RIGHTEOUSNESS: IT IS ALL ABOUT GOD'S AGENDA – Everything we do must glorify God and build His Kingdom; it is all about Him and for no other reason. For His is the Kingdom, the Power, and the Glory forever. We do this by seeking His presence and listening as He continues to speak today.



GOD IS A GOOD FATHER… ALL THE TIME



JESUS HAS WON ABSOLUTE VICTORY; JESUS PAID IT ALL



OUR IDENTITY COMES ONLY FROM THE FATHER



GRACE THAT EMPOWERS – Grace is not just unmerited favor; it also gives us the ability to become who God created us to be, and to do the good things He planned for us to do.



FOCUSED ON HIS PRESENCE



GOD IS STILL SPEAKING



THE WORD PLUS SPIRIT BRINGS POWER – We are Spirit-led and Bible-grounded.



WE ARE CALLED TO BE A KINGDOM FAMILY – Life is best lived in a relational, whole-hearted family. God designed us for relationship. We reach our greatest potential through community.



GOD LIVES IN ME TO TRANSFORM ME – God will continue to transform me into who He created me to be as I actively follow Him and pursue His presence. I am a brand new creation. Character matters.



CULTURE OF HONOR – Honor recognizes God's created value in each person and releases them to be powerful. People don't need to change in order for me to be ok with either them or myself.



GOD WORKS THROUGH US TO TRANSFORM OUR WORLD – Saved people, serve people. Every member owns the work of the ministry. God partners with people of faith to transform their communities and world. In order to transform a city with the gospel of Jesus, we must think big. We will set impossible goals, take bold steps of faith, and watch God move. This comes as we take ownership and responsibility for our faith, church, and service. Free people, free people; people give away what they have. Jesus sets us free so we can bring the same freedom to others.



JESUS EMPOWERS SUPERNATURAL/MIRACULOUS MINISTRY – Jesus said we would do even greater works as we live empowered by the Holy Spirit. We believe God's Kingdom is for now. When you expect the supernatural, and believe God is able, your expectations will lead you to action.



GOD IS GENEROUS AND SO ARE WE – We can never out give God; He is extravagantly generous and our generosity is a response and reflection of Him. We consider it a privilege to give back to God what He has so freely given to us. We celebrate generosity and the work God does through our sacrificial giving and stewardship.