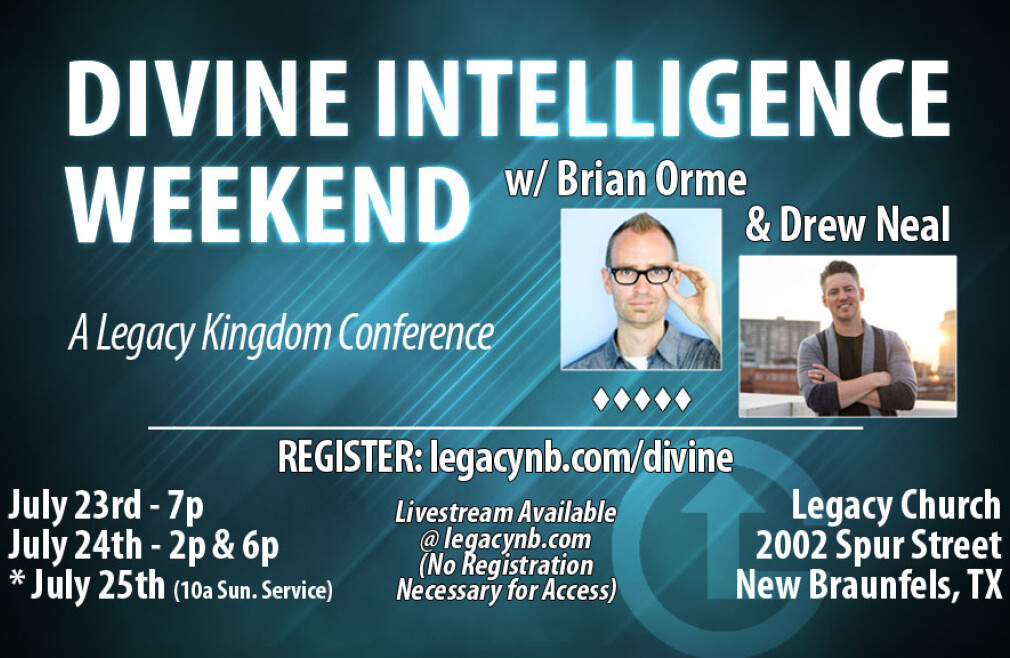 Friday, July 23, 2021
,
7:00 PM - Saturday, July 24, 2021, 10:00 PM
LOCATION: Legacy Church, 2002 Spur St, New Braunfels, TX 78130

SESSION 1: Friday 7:00pm
SESSION 2: Saturday 2:00pm
SESSION 3: Saturday 6:00pm

* Doors open 30 minutes prior to sessions.


FREE EVENT... SEATING IS LIMITED... REGISTRATION REQUIRED FOR IN-PERSON ATTENDANCE!
LOVE OFFERINGS WELCOMED. Child care AGES 2-10 available through registration link below.
FREE LIVESTREAM AVAILABLE... NO REGISTRATION NECESSARY FOR ACCESS!


ABOUT BRIAN:
Brian has over 21 years of experience developing and deploying world changers on universities, which helped to shape his passion for the merging of the intellectual and mystical. He is an international speaker and trainer that empowers others to live an ascended life in the limitless Kingdom of God. Along with helping to start two businesses, Brian is the co-founder of the nonprofit, Kingdomstrate, which exists to equip and empower others to demonstrate the Kingdom of God. He is also the co-founder of Kingdom Reformers and co-founder and CEO of Triscend LLC. Brian carries a father's heart, a sense of humor, and a strong desire to provoke others out of religiosity and into the reality of sonship. He has authored five books that are used in several countries. Brian and his wife reside in San Diego, California with their two children.
ABOUT DREW:
Drew Neal's purpose is clear: help leaders and organizations grow by discovering wise and innovative solutions for their greatest challenges. As a Solutionary, reformer, and hybrid leader, his impact reaches across industries, multiple spheres of influence, and across 18 countries over the last 20 years. His entrepreneurial spirit has landed him as the founder of multiple small businesses in consulting, real estate, and public speaking as well as the founder of a non-profit ecclesiastical organization called Gen One in Detroit, MI. As a strategist, Drew's wisdom and innovation has created courage for mission and purpose to be elevated as equally important to the bottom line. Investing into human capitol and emotional intelligence matched with leadership, grit, and lots of fun create a cutting edge for success in todays ever changing market. Drew's strong value on sustainability has birthed coaching experiences for founders, multiple training courses, and impact-investing opportunities. Being the son of church planters, he had a birds eye view into living a life of faith and purpose. He discovered what was possible when the passion of the local church, the resources of business, and the access of government would all converge. The future is bright. His new company Solutionary Ventures is currently building an ecosystem for start-ups that will unite and synergize his passion for solutions, growth, and funding for entrepreneurs who want to build enterprise around their purpose. Drew and his wife Melissa of 18 years reside in Metro Detroit with their five children.

WEBSITE: Kingdomstrate (Brian Orme) & Drewneal.com (Drew Neal)