Prayer Opportunities
---
10 days of united prayer, worship & repentance
From September 25th through October 4, 2022, Legacy Church will take part in the global event known as 10 Days of United Prayer, Worship & Repentance. The purpose and vision of the event is to enter into a season with other believers from around the world where Jesus Christ is the focus of every heart for 10 straight days. The call to action of 10 Days of Prayer is for God's people to stop and rest in His presence as we seek His face.
Over the course of 10 days, participants will be led by a facilitator using a 10 Days of Prayer Guide to pray into 10 different daily themes – IDENTITY, GRACE, PEACE, FILLED, UNITY, LIGHT, LOVE, WISDOM, POWER, and SPIRIT. Ways you can prepare yourself to take part in the event include fasting from food (partial, Daniel Fast, or complete), TV, or social media… whatever God leads you to do in preparation for seeking Him. The event will officially end on the morning of October 5th in accordance with Jerusalem's sundown.
For more information on the global 10 Days of Prayer movement, visit 10days.net.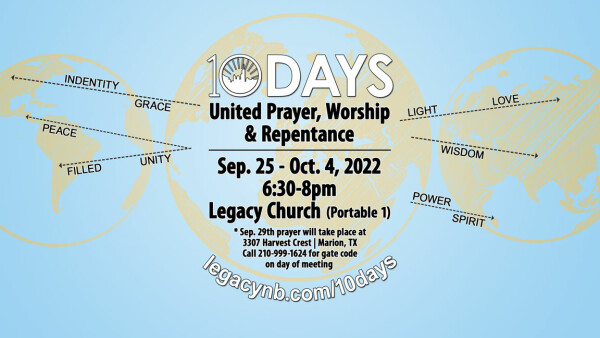 * Sep. 29th prayer will take place at 3307 Harvest Crest in Marion, TX. Call 210-999-1624 for gate code on day of meeting.
---
Cover the Corridor
On the 4th Sunday of every month, members of Legacy Church cover the I-35 Corridor between San Antonio and Austin in prayer as part of a regional prayer movement called Cover the Corridor. We would love to fill this day each month with as many prayer warriors as possible, so here's how you can take part:
Commit to ONE HOUR of prayer on the 4th Sunday of each month.


Pray wherever you are, whenever you can on each 4th Sunday... no special meeting place or specific time slot necessary.



2022 Calendar Dates for Legacy Church -

January 23rd, February 27th, March 27th, April 24th, May 22nd, June 26th, July 24th, August 28th, September 25th, October 23rd, November 27th, and December 25th.
If you are interested in participating, please email so we can add you to the list today! If you would like one of our PRAYER RESOURCE guides on how to pray during your one hour commitment, select one of the following links for an English or Spanish version of the guide. For more information on Cover the Corridor, please visit coverthecorridor.org.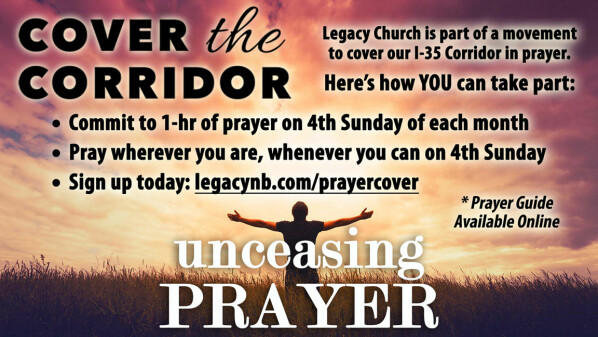 ---
Pray were you are
One way we can minister to others is through Intercessory Prayer... the act of meeting with God on behalf of another person. In essence, you are acting as a mediator between Heaven and Earth at God's throne. We are called to meet with God for our friends, family, and our world. It might be for salvation, healing, freedom, reconciliation, financial provision — any human need.
Pray Where You Are is just that... pray when and where it is convenient for you in your time with God. Each week you will receive an email or social media posts via GROUP ME containing prayer requests for our members, their friends and family, and other regionally-based friends of our local community. As you receive opportunities to pray for others, pray for each person and lift up their requested need(s) to God. And remember... we are not merely carrying burdens FOR the person; we are carrying burdens AWAY from the person and giving them to the Father.
If you are interested in serving on our Prayer Team and being a part of our Pray Where You Are program, we ask that you click here and listen to our Releasing Healing 101 teaching series. Contact for more information.
---
Pre-Service prayer / altar ministry prayer
You're invited to join us every Sunday morning at 8:30am for Pre-Service Prayer as we ask the Lord to minister in, and through, our Sunday services. Our goal is to lift up the people attending each service, including those who serve and minister during the service, so we can see lives changed for the glory of God!
We pray for lives to be transformed in our services — to see people saved, families restored, marriages renewed, bodies healed, and more! We also pray for God's anointing on Senior Pastor Jay Moeller, the Legacy worship team, our altar ministry team, and all of the Guest Experiences, Student Life, and Children's Ministry volunteers who make Legacy Church a great place to worship!
During and after our services, our Altar Ministry Prayer Team puts the pre-service prayers into action... seeking God's heart and agreeing with His truth for the lives of the people they pray with.
The Spirit of the Lord is upon Me, because He has anointed Me to preach the gospel to the poor; He has sent Me to heal the brokenhearted, to proclaim liberty to the captives and recovery of sight to the blind, to set at liberty those who are oppressed; to proclaim the acceptable year of the Lord.
- Luke 4:18-19
If you are interested in serving on our Prayer Team and taking part in our pre-service prayer time or altar ministry time, we ask that you click here and listen to our Releasing Healing 101 teaching series. Contact for more information.
---
Zoom Prayer THURSDAYS
Every Thursday from 7-8pm, our prayer warriors gather for Zoom Prayer Thursdays to pray for Legacy Church and the city of New Braunfels, as well as our state, nation, and world. This time of Holy Spirit-led prayer leaves room for each person on the call to bring a topic on their heart to pray over, as well.
If you are interested in participating, please email to receive a Zoom link for the call.